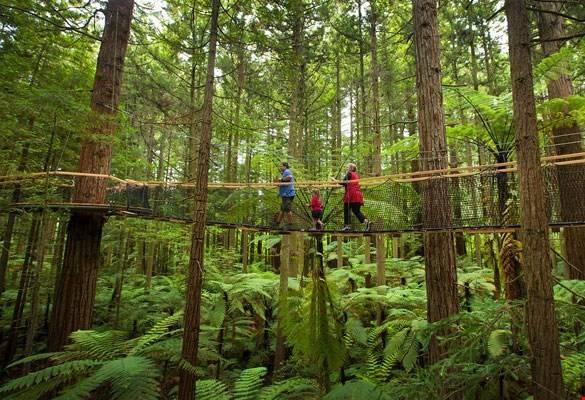 The Rotorua Redwoods are 5600 hectares of forest about a five minute drive from Rotorua's CBD. It's stunning, and a must visit for anyone headed to New Zealand. With exotic wildlife and a great canopy walk via a suspension bridge, breathe the fresh air while standing in awe of its unique natural landscape. The area where these trees are based is known as the Redwood Memorial Grove. Rotorua's Redwoods trees are Californian redwoods that are over 100 years old. They are located near the Whakarewarewa thermal area. The Forest's largest redwood is 72 meters tall and 169 centimeters wide. Rotorua is a 2.5-hour drive from Auckland and it's considered the most recommended site to experience traditional Maori culture. The area is also home to wildlife and endangered birds, including whitehead, New Zealand Falcon and North Island Robin.
The entire site is protected but open for recreational use such as mountain biking or for canopy walks.
History of Rotorua's Redwood Forest
The forest is a result of planting more than 170 species and these trees were planted in the beginning of the 1900s in order to assess the viability of the landscape for exotic trees in the commercial forest industry in New Zealand. The Redwoods took to the climate and created a grove where now visitors can explore the redwoods and surrounding forest with native and exotic species. The Redwoods here have grown faster than in their native homeland due to the heavy rainfall and nutrient-rich soil. The area that was planted surrounds Mt. Tarawera, a volcano that erupted which also helped in producing an optimal rich environment for their growth.
Before the area was cultivated, it was bare except for natural bush. The New Zealand government began an effort to replace native forests and European settlers had cleared many of the native trees for timber and to make farmland. The government purchased land off of the Maori landowners and looked to plant exotic trees in 1896. They began by planting Native Maori trees that take between 200-300 years to mature and after 100 years, on average they've reached 70 meters (230 ft) in height. In 1925, it was declared a World War I memorial to the New Zealand Forest service that served.
Activities in the Forest
Redwoods Treewalk
The most popular activity is a canopy walk through the trees on a suspension bridge. Alex Schmid is the creator of Redwoods Treewalk Rotorua. He and his wife permanently relocated to New Zealand and operate the suspension bridge tree walkway as an accessible soft adventure experience. It consists of twenty three suspension bridges up to twelve meters above the forest ground. He designed it to be a bird's eye view of the forest surrounded by giants. At night the tree walk is illuminated by lanterns designed by David Trubridge. Visitors to the Rotorua Redwoods can enjoy more than 180 km of single track. There's a tree walkway in the canopy of the Redwoods and at night, these light up to illuminate the forest floor vegetation and the tree ferns.
Redwood Forest Walks
The Redwoods are a popular destination for walking and hiking. It's also a favorite spot for mountain biking as well as horseback riding through the trails. The Rotorua Redwoods is a family-friendly destination with trails of multiple levels. Guests can bring dogs and walk through the densely wooded pathways, and the Rotorua Redwoods is a first of its kind attraction in what was once Maori homeland.
Redwood Memorial Grove Track
We recommend the Redwood Memorial Grove Track. A short 30 minute walk, where you wander through the magnificent Californian Redwoods looming overhead. A highlight here is the boardwalk crossing the old thermal pond. Lookout for the awesome variety of diverse exotic plants.
Mountain Biking
Rotorua's Whakarewarewa forest is home to one of New Zealand's oldest and premier mountain biking trails. With a range of trails, unbeatable well drained riding surfaces, and beautiful scenery. The park has 150km of epic trails, with something for riders of all levels.
Horeseback Riding
Horseback riding in the Rewoods forest is quite popular during the summer. The park offers dedicated trails and forestry roads.
Lakes and Swimming
A nearby hot-spot that also makes this a must visit is that the forest grows around a natural thermal spring point, with hot springs. There are thirteen lakes surrounding the hot springs and eighteen in the area. As a natural geothermal area, it's connected to mud springs and active geysers which visitors can also witness, and in some areas enjoy a nice hot spring.
The word Rotorua translates to "second lake," and there are many water features around the Redwood forest. There's a grade five white water rafting Kaituna River. Kayakers can find more mild courses as well. One can also go trout fishing and boating. In addition to all this, various facilities exist providing guests with nearby gift shops and a visitor center to obtain more information. Visitors can also take part in educational guided tours if booked ahead. The forest welcomes guests for free all year round.
Where to stay while you enjoy Rotorua's Redwoods?
We're proud of our Redwoods, and would love to share them with you. If you're keen to get out there and into it there's no better place to stay than our very own Holden's Bay Holiday Park. Our expert team and facilities are perfect for setting you up for any other adventure our region has to offer. We offer a bed for every budget.
Book Now if you're planning to come through our part of the world!