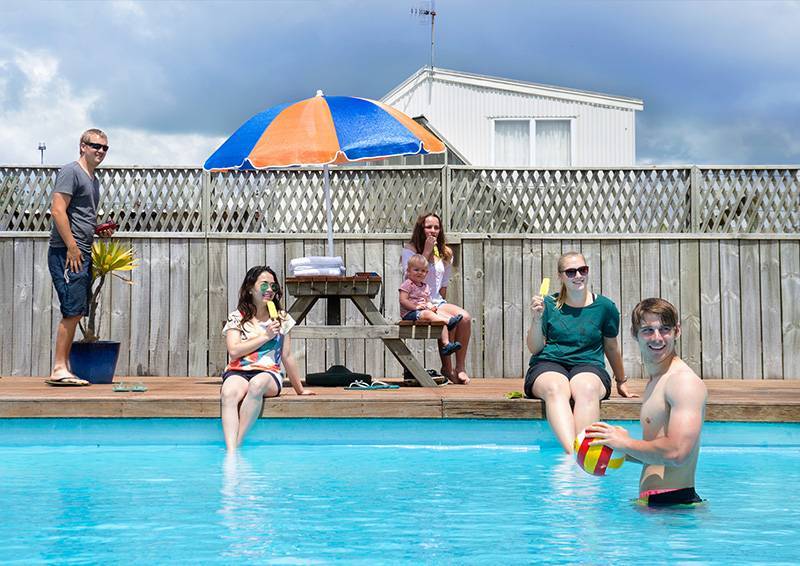 Make memories that last for a lifetime during your stay at the Holdens Bay Holiday Park in Rotorua. Our plethora of in-house facilities are guaranteed keep you and your family entertained and satisfied for the duration of your stay, regardless of who you are and how long you're with us.
With a stay at Holdens Bay Holiday Park in Rotorua, you're signing up for a memorable trip that your family will remember for decades to come!
Family accommodation in Rotorua comes with plenty of options to make room for families of all sizes and types.
1. Large One Bedroom Kitchen Cabin
This accommodation type comes with one separate bedroom, kitchenette and studio living area. This room is a good choice for a family of eight people or less.
2. Large Standard Cabin
This open plan family accommodation in Rotorua has two spaces for living and dining along with a double bed and single bunk bed and table with chairs in the living area. A standard cabin in Rotorua family park is the ideal choice for a family with upto 4 members.
3. One Bedroom En Suite Cabin
Experience the comfort and cosiness of living in true Rorotura family park style with the one-bedroom en suite cabin. It comes with one separate bedroom, kitchenette, living area and en suite and is a good choice for a family of four.
4. Standard Cabin
The standard cabin is a no-frills room that comes with a sleeping area, either with bunk beds or double beds. The value for money cheap accommodation in Rotorua for a family is one of the best travel decisions that any close-knit family can make.
5. One-Bedroom Park Motel
This accommodation type has one separate bedroom, kitchenette, studio living area and en suite. The bedroom has a queen bed and there is also a single bed in the living area. Enjoy the comfort of family living in this unit for you and upto two more people.
6. Studio Kitchen Cabin
This one-room studio-style cabin comes with all that you may need during your family trip and gives it to you in a hassle-free way. Enjoy the pleasure of a kitchenette, double bed and single bunk beds all in one room for a family of upto 5 people.
7. Campsite
For the true family park experience, opt for a stay in the campsite. These powered tents are ready for yoru stay with upto 52 sites to choose from within the property. The booking comes with free access to dump station and drinking water taps and pets are allowed with prior notification.
All stay and no play? Not at Holdens Bay Holiday Park in Rotorua. There's plenty of facilities on-site for families to have fun, make memories and make the most of their time in Rotorua.
1. BBQ Area
A trip to Rotorua is incomplete without a meaty barbeque with friends and family. Our outdoor BBQ area and a shared kitchen is the perfect spot to relax, unwind and enjoy smoked and grilled delicacies with your loved ones.
2. Playground
Equipped with Two swings, a trampoline and an adventure playground, your kids will run out of energy before they run out of things to do.
3. Conference Room
Planning a work retreat or a work-cation? Make use of our conference room for any team activity or meeting.
4. Outdoor Swimming Pool
Kick back, relax and unwind at our outdoor swimming pool. Make the most of summer days with a dip in our pool make remarkable poolside memories with your friends and family.
5. Indoor Hot Pools
The shared indoor hot pools spill and spell rejuvenation and relaxation. Make use of this free facility after a long day out making the most of your trip to Rotorua and unwind in the best way possible.
6. Laundry
Enjoy free and unlimited showers during your stay with us. We provide hairdryers for men and women as well. Dirty clothes? Don't sweat it. Make use of our coin-operated laundry and free washing liquid to walk out with a clean set of clothes for your next adventure.
A trip to Rotorua and Holdens Bay Holiday Park will be etched in your memories thanks to the best family accommodations and various on-site facilities that will make your stay pleasant, and give you a reason to come back time and again to experience them all over again.