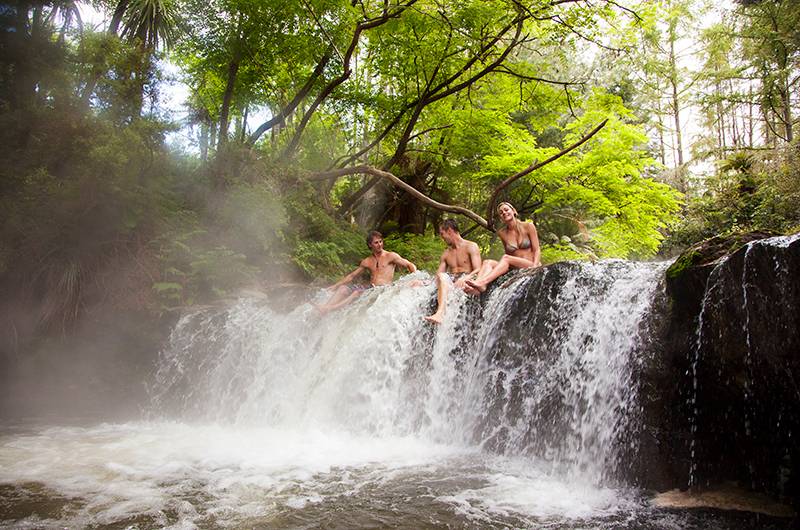 If you've never been to Kerosene Creek, then get ready to experience the ultimate in relaxation as you soak in the warm waters and heated steam of these natural hot springs. Located near Rotorua, the hot pools of Kerosene Creek are a true wonder of nature.
The pleasantly warm waters found in this little bit of paradise are the result of a hot spring bubbling up into the cool fresh water of the creek. When those waters combine, an inviting warm pool of natural geothermally-heated water is produced along with a blanket of steam that seems to wrap you in its warm embrace.
While the hot pools are certainly inviting for relaxing, the breathtaking surroundings of Kerosene Creek are also not to be forgotten. Located in the heart of nature, the creek and its amazing bush scenery could easily be mistaken for paradise on earth.
How to Get to Kerosene Creek
If you're eager to visit this destination, that's a favorite among both locals and tourists, getting there is easy. As a matter of fact, it's only a 30-minute drive from Holden's Bay Holiday Park. Here's how you get there:
First, drive southwest on Stonebridge Park Dr toward Robinson Ave Turn left onto Robinson Ave Next, turn right onto State Highway 30 At the roundabout, take the exit to continue on State Highway 30/State Highway 30A At the next roundabout, take the 2nd exit to continue on State Highway 30/State Highway 30A Turn left onto State Highway 30 At the next roundabout, take the 1st exit and stay on State Highway 30 At the next roundabout, again take the 1st exit to continue on State Highway 30 Continue on as the road changes to State Highway 5 Continue on State Highway 5 for around 13 miles (Before you turn left onto Old Waiotapu Rd, you will be able to catch a glimpse of Rainbow Mountain in the distance) Turn left onto Old Waiotapu Rd Once you reach Old Waiotapu Rd, you need to travel down a bumpy gravel road for about five minutes in order to arrive at the parking area for this hidden gem. Because the wonders of Kerosene Creek are free to enjoy, you can just park and then set off down the small track that will lead you toward this wondrous spot.
The Walk
As you walk along the track, expect to enjoy a lush natural-filled stroll through the New Zealand bush. Warm swimming spots can be found along the way, where you can stop and enjoy a soak. However, those are just precursors to the big reveal. That's because, when you finally arrive, you will find a breathtaking waterfall that flows warm water over the rocky cliff above into a toasty and inviting spa pool where you can enjoy some warm relaxation.
Valuable Tips for Your Next Visit
When visiting Kerosene Creek, your primary objective is obviously to enjoy a day of outdoor relaxation in the warm waters. While it may seem like you can think of nothing other than care-free fun, there are a few things that you need to be mindful of during your visit, such as:
• For your safety, please be sure not to put head under water • To ensure the safety of your possessions, please don't leave valuables in your vehicle • Please be courteous of the environment during your visit by leaving the area clean and free of rubbish
More to See Near Rotorua If you find yourself visiting Kerosene Creek, then you might be interested to know that it isn't the only wonder of nature in the area that's worth seeing. Visitors to the creek can also plan a visit to Waiotapu Thermal Wonderland to take in the amazing sights that this scenic tourist attraction has to offer. Here you will be able to enjoy one of New Zealand's most colorful and unique active geothermal regions, that was created over thousands of years by volcanic activity. Open 365 days a year, visitors can find a spot in the natural amphitheater to take in the daily show put on by the Lady Knox Geyser, as its eruptions reach heights of 10 to 20 meters, or they can take in the spectacular sights offered by the Champagne Pool. Then there is the geothermal park, which is considered to be New Zealand's most colorful and diverse geothermal sightseeing attraction. Finally, no visit to Waiotapu Thermal Wonderland would be complete without stopping by the largest mud pool found in New Zealand.
Where to stay while you explore Kerosene Creek?
We're proud of our destinations, and would love to share them with you. If you're keen to get out there and into it there's no better place to stay than our very own Holden's Bay Holiday Park. Our expert team and facilities are perfect for setting you up for any other adventure our region has to offer. We offer a bed for every budget.
Book Now if you're planning to come through our part of the world!