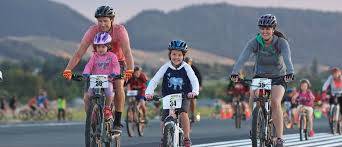 The Rotorua Bike Festival is Rotorua's celebration of all things Bike! The Festival was first held in 2013 and has been held annually ever since. Now in its 6th year the festival includes around 25 individual events, catering for all ages and abilities, and attracts around 5000 cyclists and countless spectators.
In 2019 it's being held from the 25th of October until the 3rd of November. Headline events include the Whaka 100, Giant 2W Enduro and Ride the Runway.
This years schedule:
Rotorua Bike Festival Opening Ceremony – 24th October
Pimp my Paihikara – 24th October
BikeYoga under the Redwoods Sail – 25th October
Skyline Bike the Luge – 25th October
Art by Bike – 26th October
Diwali Night Ride – 26th October
The Great Electric Bike Challenge – 26th October
Whaka 100 – 26th/27th October
Cannon Bagel Run – 28th October
Climb the Caldera – 28th October
Chainless on Corners Track – 28th October
Low Key Super D – 28th October
Pedal Power Scavenger Hunt – 29th October
Photography Workshop – 30th October
The Business of Bikes Breakfast – 31st October
Te Manawa Trick Come – 31st October
Pop-up Bike Kitchen – 31st October
Bike Speedway – 1st November
Outdoor Movie Night in the Redwoods – 1st November
Bike Polo – 2nd November
Mount Ngongotaha Hill Climb Challenge – 2nd November
Giant 2W Gravity Enduro – 2nd November
iBike 4 Kids Rotorua – 2nd November
Whanau Fun on Bikes – 2nd November
MTB Adventure Quest – 3rd November
Ride the Runway – 3rd November
For more information on each event, please visit www.rotoruabikefestival.com.