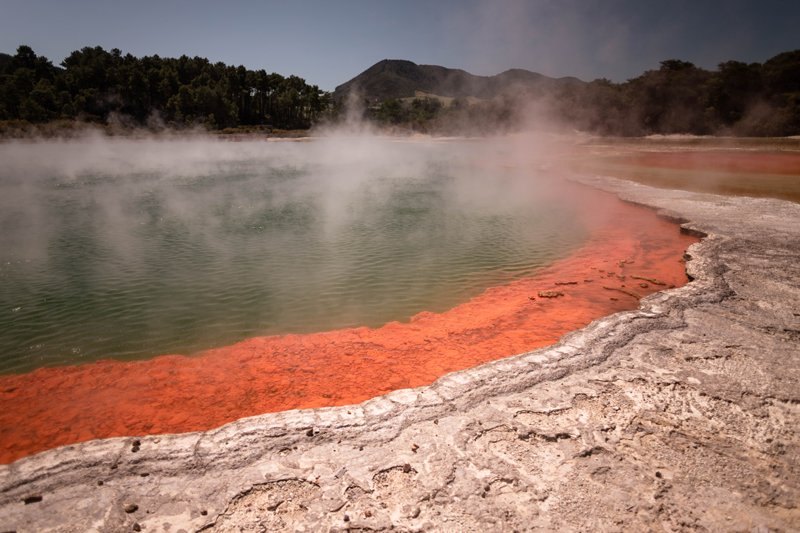 If there's one thing that Rotorua is well known for is its geothermal activity. Rotorua is a hotbed (literally) of spots that offer the best and the most authentic of geothermal experiences.
Here are some of the top geothermal wonders and activities to experience during your trip to Rotorua.
1. Hell's Gate
Hells Gate Rotorua is perhaps one of the most well-known landmarks in Rotorua. It is filled with natural hot springs, sulphur rocks, mud pools as well as the most active thermal park in all of New Zealand. Hell's Gate is also the only spot to have a mud volcano. You can take a relaxing mud bath in one of the mud pools where Māori warriors once bathed.
Hells Gate is open every day from 8.30 am, and is situated on State Highway 30, a mere 15-minute drive from central Rotorua. The property is over 50 acres with various mud therapies, sulphur pools, coloured pools, hot water lakes, and more.
2. Whakarewarewa Living Thermal Village
Whakarewarewa is one of the most popular geothermal sites in all of Rotorua. It proudly displays some of the most active geothermal activity that is located in a thriving traditional Māori village. It has over 500 hot springs. The proximity of the village to these pools has given it the term 'Living Thermal Village'.
It is home to the Tuhourangi/Ngati Wahiao people that continue to live a life surrounded by a magnanimous level of geothermal activity. Engage in various cultural performances that take place in this village or gorge on food that comes cooked directly from a hot pool during your visit.
3. Kuirau Park
Kuirau Park is one of the best spots to explore and wander in to absorb the true natural beauty of Rotorua, for free. The park is great for families as there are playgrounds for children within the premises. You can spend hours with your feet dipped in one of their hot foot pools. These free Kuirau Park Footbaths are a landmark on their own. It is advised to not have a bath in them as they're meant for your feet. Visit the best spot for soaking your feet in a hot bath in one of the most authentic experiences possible in Rotorua.
Freely walk over a bridge that's on a hot pool or simply enjoy the natural beauty of the park with your loved ones. You can also relish many delicacies during the food market that happens every Saturday within the park.
4. Polynesian Spa
The Polynesian Spa is a geothermal bathing retreat located in Rotorua. It consists of 28 mineral pools that are fed by two natural springs, giving you the experience of the best of Rotorua's geothermal activity with the peace and calmness of a soothing ambience. Polynesian Spa is said to be among the top 10 spas of the world, it is no surprise that it offers a range of therapies that soothe your body, mind and soul.
5. Wai Ora Spa
Wai Ora Spa is one of the best places to go for the best soothing experience during your trip to Rotorua. The spa spills luxury and relaxation, with its internationally recognized spa treatments, it is among the top spa experiences in Rotorua, New Zealand.
The name itself means "healing waters", you can only imagine what the 100-year-old spa resort has to offer to its visitors. The resort offers hot spa pools and a solar heated pool, all near a spring-fed, fast-flowing trout stream
6. QE Health
QE Health is among the oldest and one of the most recognized spas and wellness centres in Rotorua. They offer holistic therapy that gives you a true luxury experience in Rotorua. Feel free to dip in the thermal mineral pool or cover your body with the rich mud bath that combines volcanic mud and thermal waters. They also offer various mud pack and body wraps along with a nourishing milk bath that is sure to make you feel nourished, fresh and a rich after-glow.
The geothermal spa and the holistic approach to wellness make QE HEalth among the top experiences to have during your trip to Rotorua.
There's a lot to tap into during a trip to the famous geothermal land of Rotorua. It boasts of a rich culture that is well-known and well-respected all around the world. The experience is heightened by its abundance of geothermal hotspots that give your body nourishment, relaxation and rejuvenation.
Sounds just perfect for a holiday, doesn't it?