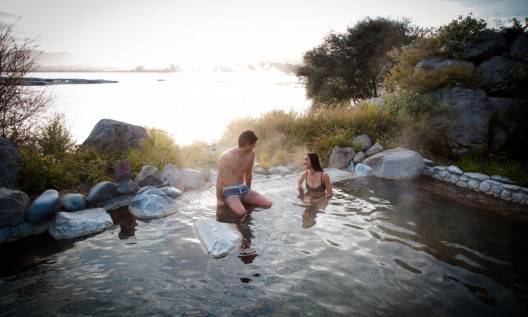 Rotorua and its surrounding area has fascinated domestic and international travelers alike for over a century. A town originally built for the weary to visit the healing waters, Rotorua quickly gained international recognition for its breath-taking scenery and display of local culture.
Today the thermal pools still attract a large number of tourists every year – and understandably so. The town, situated in the Bay of Plenty, is known for its mild Rotorua weather providing visitors with balmy temperatures all year around.
Whether you are looking for an admission free, relaxing soak in amongst nature itself or a luxurious dip in a spa retreat, Rotorua's thermal springs have everything you need to indulge in an experience like no other.
Why Rotorua is the Hot Pool Capital of New Zealand
Rotorua's position within the Taupo Volcanic Field, and placement on the pacific ring of fire means that the earth's crust in this region is thinner than other parts of the world. This 'thinness' means that underground water in Rotorua is much closer to earth's superheated mantle. This water heats up and is forced upward to the surface where it combines with the cooler surface water. When everything is balanced right, this produces what we know as natural hot springs (which feed hot pools). One key benefit of this underground water is that it carries a number of beneficial underground minerals.
Mineral Hot Pools vs Fresh Water Hot Pools
Rotorua's hot pools are renowned for their healing, soothing effect on the body and soul. People who bathe here often remark on the silky softness of their skin. This is a result of the unique mineral properties of the water here. This difference is caused by the source of the hot water. A mineral hot pool is fed by a geothermal hot water spring, where as a fresh water hot pool is fresh water heated by underground geothermal heat.
While there are both amazing mineral hot pools, and fresh water hot pools, the effects and properties of the water are likely to be different.
A Guide to Rotorua's Hot Pools
Polynesian Spa
If it's a world class spa experience you're after, then the Polynesian Spa might just be the place for you. The geothermal bathing retreat is uniquely nestled in on the shores of Lake Rotorua, providing exclusive views of its surroundings. The retreat offers a range of therapies – massages, body wraps and facials among others – perfect if you're looking for rest and relaxation.
Phone Number: 07-348 1328 Address: 1000 Hinemoa Street, Rotorua 3010
The Blue Baths
The stunning art deco heritage bathhouse The Blue Baths is located in the heart of Rotorua's Government Gardens. Although primarily known as an event and wedding venue, the bathhouse is open to the public daily. The historic hot water pools are geothermally heated fresh water with temperatures varying between 30°C – 42°C. Blue Baths is a great place to visit if you want to bathe immersed in Hollywood-style luxury.
Phone Number: 07-350 2119 Address: Queens Drive, Government Gardens, Rotorua 3201
Waikite Valley Thermal Pools
As a popular tourist "must-do", the spa retreat of the Waikite hot pools is nestled in a valley with idyllic views of the countryside. The unique spot is home to the Te Manaroa Spring – the largest single source of pure geothermal water in New Zealand. Visitors can choose to soak in the main pool, one of the luxurious garden pools or indulge in a private spa. Open all year around, Waikite hot pools is an ideal place to unwind.
Phone Number: 07-333 1861 Address: 648 Waikite Valley Road, Waikite Valley 3077
Kerosene Creek
For those who prefer to bathe for free immersed in the native bush of Whakarewarewa, Kerosene Creek is a mere thirty five minute drive south of Rotorua and a perfect place to get back to nature. The naturally heated creek is a popular destination for visitors and locals alike, especially as there is no admission charge to use the hot water. Located uniquely just off the side of a local road, a small dirt path leads you down to the natural hot pool in an idyllic location, featuring its own Instagram-friendly waterfall.
Address: Old Waiotapu Road, Waiotapu 3073
Waiotapu Stream
Set in the tranquil beauty of Whakarewarewa Valley, the secret spot located outside Wai-O-Tapu geothermal park is an experience unlike any. Admission free, the hot pool is formed as the hot Wai-O-Tapu stream flows into the cool river. Visitors are encouraged to move around the river to find a spot with the perfect temperature for them to enjoy this natural phenomenon - earning it's deserved nickname 'Hot and Cold'.
Phone Number: +64 7 366 6333 Address: 201 Waiotapu Loop Road RD 3 Rotorua 3073
Wairua Stream
Though harder to get to, the beautiful stream of Wairua is well worth the boat ride across Lake Tarawera. The native bush bordering the beach hides a small steaming creek, a secret haven for those lucky enough to visit. The Rotorua weather, mild and wet in winter, makes this a perfect spot to experience even during the winter downpours.
Address: Whakarewarewa, Rotorua 3073 (Accessible by boat)
Kuirau Park
For those who just want to dip their feet in the thermal pools, Kuirau Park is the place to go. As the only geothermal public park in New Zealand, it offers visitors an opportunity to explore beautiful gardens among steaming hot springs and mud pools. The footbaths are free to use, and especially encouraged during the cooler winter months to warm cold feet.
Rotorua is truly a remarkable place. With its mild weather and stunning countryside, visitors are welcome to enjoy the luxurious spas and the free thermal pools all year around.
Address: 2 Kuirau Street, Rotorua 3010
Where to stay while you enjoy Rotorua's Hot Pools?
We're proud of our Rotorua Hot Pools, and would love to share them with you. If you're keen to get out there and into it there's no better place to stay than our very own Holden's Bay Holiday Park. Our expert team and facilities are perfect for setting you up for any other adventure our region has to offer. We offer a bed for every budget.
Book Now if you're planning to come through our part of the world!